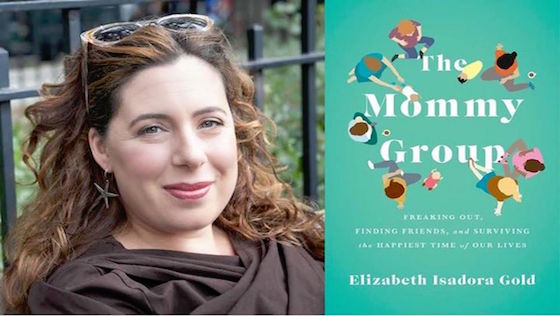 Meet my new mom friend, Elizabeth Isadora Gold, author of the new nonfiction book, The Mommy Group: Freaking Out, Finding Friends, and Surviving the Happiest Times of Our Lives. Today, Elizabeth chats very openly and honestly with me about how she juggles motherhood and her booming writing career. She also gives incredible advice for dealing with sanctimommies and how to recognize the signs of postpartum anxiety, something she suffered from soon after her daughter Clara (now five) was born. A Typical Day As A Working Mom
Because I'm a freelancer, typical isn't really a thing in my house. My husband Danny and I both have three or four jobs at any given moment, in addition to our "real" work of writing and composing. Our schedule in terms of childcare is pretty split. Danny takes the morning shift with our five year old daughter, Clara. He wakes up with her somewhere between 6:30-8, cooks her breakfast(s), and makes her lunch. I wake around 8 and get her dressed; he takes her to school. This year I was teaching Writing at Juilliard and Marymount Manhattan College, so I was out early most mornings. Now that it's summer, I stay in my bathrobe and drink coffee, read the Internet, and return emails until I feel so guilty that I actually start getting work done. Clara's pickup is anywhere from 3:30-5:30, depending on activities. Usually I'm the one on that shift, because Danny's work (he's a composer and teacher) often extends through the early evening. We don't cook as much as we'd like to (Clara would eat takeout guacamole and chicken tacos every night if she could), and we all stay up late and watch too much TV.
Most Challenging Thing About Motherhood
Everything that is not the fun parts. Now that Clara is five, life with her is really different than when she was a baby. She's a relatively calm and agreeable child – we lucked out. It is still impossible, however, to make her put on her own socks or go into a room by herself when she declares there are "monster shadows in there." The most challenging thing – and I think this is true for most parents – is how tired I am at the end of the day, and how little of my energy is left over for, say, housework or date nights or reading Russian literature.
When a child is a baby, women get the bulk of the physical burden, which translates into the hormonal burden, which leads to the emotional burden. That's truly difficult and almost completely unsupported systemically in this country. It could be a lot better.
What We Should Celebrate Most About Motherhood
The balancing act that all parents must perform to work and love and be patient.
Motherhood Now Vs. Being a New Mom
It is completely different. First of all, I'm well medicated. When I was a new mom, I was very sick with postpartum anxiety. Second of all, I prefer to hang out with people who can talk, and babies can't. Third of all, having a kid as opposed to a baby is just more fun.
On Mom-Shamers and Sanctimommies
I don't believe in them. As in: I really don't believe they exist. Okay, when Clara was a baby there were people in my life who passive aggressively criticized me for giving her formula or not wearing her on my body. But those people are nuts. At the time, I obsessed over such small remarks, and they made me feel terrible. Now I sort of take the fact that if you pretend they're not there, you'll feel less crazy.
I guess one more thing on this issue: telling people bluntly that I'd had two miscarriages, a tough pregnancy, and postpartum anxiety really went a long way to shutting them the f—k up when they decided to tell me what to do. Honesty works.
For Women With Signs Of Postpartum Anxiety and How To Recognize Them
I was just telling a soon-to-be-dad this advice last night. Do not assume that any doctor will recognize that you or your partner is struggling. As women, we think we need to mask our anxiety, because it indicates we're being neurotic or high strung, and we don't want to be criticized or stereotyped. If you don't feel right or if your partner, mother, doula, friends, whoever notice that you seem off, do not hesitate. Get yourself to a good therapist and psychiatrist as soon as you can. Postpartum Progress is an excellent web site with very smart and detailed checklists. You will have to be your own best advocate. If you are sick, don't balk at medication. This is life and death, for both you and your child; you have to do whatever it takes to get yourself well. Ask for support, money, time, and help from whomever you can.
For me, the signs were immediate: I didn't sleep for 48 hours and then began having back to back panic attacks. However, I now think I was having more moderate – yet diagnosable – anxiety throughout my pregnancy. My wonderful OB was totally unaware of this. Or if she noticed, it didn't red flag. I should have been in therapy from day one after my first miscarriage; it was a crime that I was not referred immediately to a social worker, because the level of hormonal fluctuations and grief I experienced should have alerted one of the many health workers who saw me.
This is a fight for awareness. Again, Postpartum Progress is a great resource if you want to learn how to advocate, fundraise, etc. on this issue.
Join me on Friday for Part Two of my Q & A with Elizabeth, where she talks more about motherhood, the importance of advocating for yourself as a mom, why every mom needs her own mommy group, and the best places to find them. And if you haven't already, pick up a copy of The Mommy Group: Freaking Out, Finding Friends, and Surviving the Happiest Times of Our Lives. It's a must read!  
Subscribe below so you don't miss it!