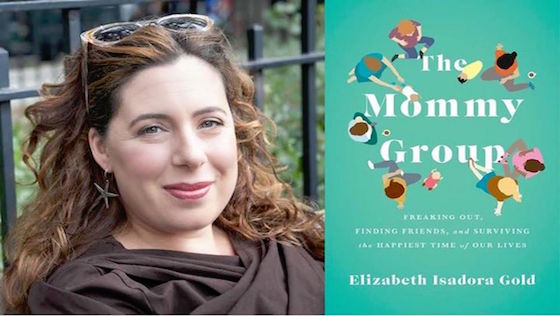 I'm back with Elizabeth Isadora Gold, author of The Mommy Group: Freaking Out, Finding Friends, and Surviving the Happiest Times of Our Lives.  Today she talks  more about motherhood, why we as moms need to advocate for ourselves, and the best ways to find your mommy group. The Mom Of An Only Child
I'm an only child, and I didn't think I would have just the one. But here we are. It is what it is. I'm a writer, we live in New York City, I'm turning 42, and I had postpartum mental illness. We are not financially, emotionally, or physically prepared to have another child. Sometimes I feel quite sad about that, and sometimes I'm good with it. The main thing is to make Clara feel that she has friends-as-family, both in terms of her kid friends and with other grownups. My mommy group has continued to be such a wonderful source of support and love for our family.
Advocating For Yourself As A Mother
Well, no one's gonna do it for you, at least not yet. It's feminism, it's politics, it's life. If we don't organize as women and as mothers, nothing will change. The United States has (say it with me) the worst parental leave and benefits for parents in the developed world. This is a shame in all sense of the word. Advocate. Vote. Fight.
The Best Time To Find A Mommy Group
I was very happy that we started as a pregnancy group. It meant that we got to know each other before our worlds exploded.
The Best Places To Find Your Mommy Group
Wherever there are mothers, there are mommy groups. For initial organization, social media and neighborhood listservs are great. But really: just walk up to the lady who has a baby or a pregnant stomach, introduce yourself, and make a plan to meet up. And when you do, talk. Not just about cloth versus disposable diapers, but about how you're feeling, what you're thinking. It's the only way to get real – you have to be brave enough to go first.
Keeping Up With The Mommy Group
Yes. We don't all meet all together, but everyone in the group still knows each other, and several of the members are still in close touch. The fact that I wrote a book about us has affected the dynamic for sure (in that I keep everyone in touch with each other, at least somewhat).
Joining New Mommy Groups
I haven't joined any other mommy group, but I've made good friends at her preschool and kindergarten. I do have a writing group which happens to be all moms, so I guess that ends up being a de facto mommy group. But our kids don't come.
Worst Parenting Moment
Having postpartum anxiety and wondering if I'd be able to care for my child.
Best Parenting Moment
Last night I took Clara to a friend's novel reading at a bookstore. She actually sat on my lap and was quiet and respectful, and sort of heard the story. She also learned the word "filibuster" last night and wants to write to Obama about gun control. If you'd asked me a week or a month or year ago, I probably would have told you what had happened in the last twenty-four hours. There's always a best moment.
Keeping The Spark Alive In Your Relationship 
Just be friends and be nice to each other. And make each other laugh. My husband and I went to the movies twice last week (we were done teaching and decided to treat ourselves to movies during the day). That was great.
Reading List
I just finished my friend Emily Barton's wonderful novel, The Book of Esther. I'm also reading Rebecca Solnit's Men Explain Things to Me. I'm perpetually attempting to catch up on my pile of New Yorker magazines. I'm reading a lot of political blogs and sites these days as well.
More Writing
I'll be publishing an interview with Emily Barton (the novelist mentioned above) in Salon this month. I'm still in a bit of book PR mode, but the summer will bring (I hope) a few essays and some more imaginative writing. It's just started so I'm not sure yet. More books to come, I hope.
I want to thank Elizabeth for taking the time out of her busy schedule to chat with me so openly and honestly. For more information about Elizabeth and her writing, go here. And don't forget to pick up a copy of The Mommy Group: Freaking Out, Finding Friends, and Surviving the Happiest Times of Our Lives.